Email Marketing
Modern email marketing supports various techniques for improving targeting of your outgoing messages and advanced methods generate on-the-fly customised emails with individual recipient details.
And every email campaign you send out generates actionable data you can use to refine your approach and future messages.
MailBuddy offers everything you need to run successful email marketing campaigns for your business.
Create and send email campaigns
Import your custom HTML and CSS with a single click and use our integrated testing tools to make sure they look great in all email programs or use one of the 33 free templates provided and add your logo and details.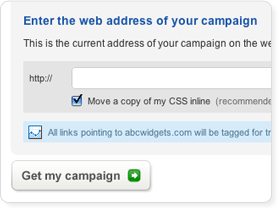 We don't impose any design restrictions, and you won't find any ugly 'powered by' logos or branding either. We hate that stuff!
Manage lists and subscribers
We take all the pain out of list management by handling the messy stuff like bounces and unsubscribes automatically. Whether you've got a small list, or need to get your hands dirty with segmenting and personalization, we've got you covered.
Reporting and analytics
MailBuddy provides you with great looking real-time reports that let you measure the effectiveness of every campaign you send. Go beyond opens and link clicks and measure your campaign related sales, conversions and ROI with our Google Analytics integration. We even show you what email clients your subscribers are using.

Reliable, secure server environment
To keep your data safe, secure and always available we use a state-of-the-art redundant server cluster in a fully managed, world class data center, monitored 24x7. All sensitive data is stored on servers behind a constantly maintained firewall using the same level of encryption as many banks.
Our database servers are secured by additional access restrictions, and more sensitive data is encrypted.
Our strictly enforced privacy policy ensures your data is never shared with third parties and is kept safe and secure at all times. Only limited staff have access to your account in order to provide support.
Priced just right
When you use MailBuddy, pricing is really very simple. You pay a monthly fee which is determined by the total number of active subscribers at the time of invoice. You can send as many email campaigns as you like during the month at no additional cost.
| # Subscribers | Cost (inc GST) | Included Emails |
| --- | --- | --- |
| 1-500 | $33 | 2500 |
| 501-2500 | $55 | 12,500 |
| 2501-5000 | $88 | 25,000 |
| 5001-10000 | $154 | 50,000 |
| 10001-25000 | $385 | 75,000 |
| 25001-50000 | $770 | 125,000 |
MailBuddy has no contracts, setup fees, or nasty lock-ins, and you can cancel at any time.
Big discounts for big senders
We offer a range of discounts for big spenders. If you have more than 50,000 subscribers (and you're not a spammer) you'll want to check these out.
Contact us for more information or to sign up.
A/B split testing
The A/B testing feature makes it smple to test your email campaigns and learn from them every time.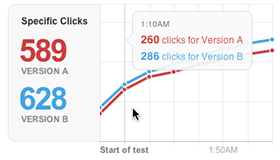 Write two different subject lines and see which one generates the most opens. Design completely different emails and see which version gets the most clicks. You tell us how to decide a winner, we'll send the two options to a sample of your list and then automatically send the winner to everyone else.
Spam testing tool
Testing your design in all the different email clients is the most frustrating part of sending email campaigns. Our design and spam testing tool changes all that by doing the hard work for you.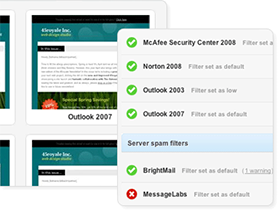 Getting your email delivered isn't just about choosing a great email service provider. Your content might be triggering filters and not being read.
Instead of just scanning your content for "spammy words", we'll pass your email through real spam filters and tell you which ones it passes, and which failed.
We'll also run your email through a number of key spam firewalls - the gatekeepers for most ISP's and large corporations.
Autoresponders and drip campaigns
Autoresponders make it easy to stay in touch with your subscribers without lifting a finger. Quickly build and schedule a series of automated welcome messages, birthday greetings and other date-based campaigns.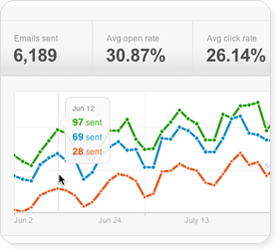 Set the rules around when an autoresponder should be sent using the triggers (New Subscriber, Anniverary of a date and exact match for a date), and then tell us what to send. MailBuddy will do the rest.
Target groups and make it personal
MailBuddy lets you easily personalize your emails. You can build segments in your list that target a specific type of subscriber. These can be based on any subscriber demographics you've captured as well as past campaign activity, such as only those subscribers that opened the last 3 emails or clicked a specific link..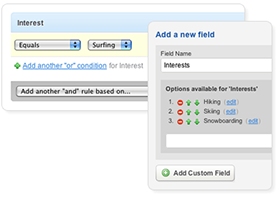 Worldview - Know your subscribers
Every time you send a campaign, MailBuddy will show you who is opening it, clicking links, forwarding it to their friends, liking it on Facebook or mentioning it on Twitter and will show you this on a map, in real-time, all wrapped in a gorgeous UI.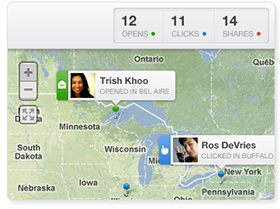 Worldview also includes a neat breakdown of where all your subscribers are located across the globe. We've also made it easy to share so friends and colleagues can watch the action with you as it happens.
From big picture to close up
Our reporting makes it easy to zoom right down to the subscriber level and see a timeline of exactly what they did with your email.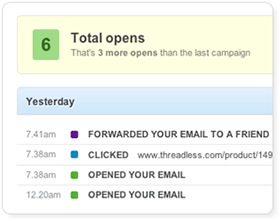 Take this a step further and see your lifetime history with that person. Which campaigns did they open, what links were they interested in, how many times have they forwarded my emails?
All this and more is at your fingertips for every subscriber in your account and is updated in real-time.
Which email clients are they using?
The hardest part about designing emails is making them look great in the dozens of email clients out there. Our email client report makes that a thing of the past by showing exactly which email clients your subscribers are using.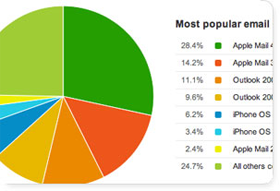 When you combine this report with our design and spam testing service, you can generate screenshots of exactly how your design looks in all these email key clients with a single click.
Compare campaigns and spot trends
Statistics like open and click rates are useful for each campaign, but it's when you start comparing results over time the data really shines. By looking at trends, the MailBuddy compare campaigns report makes it easy to see exactly what is and isn't working in the emails you send.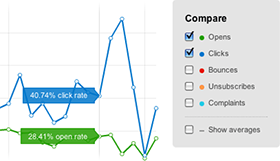 By comparing stats like opens, clicks, bounces, unsubscribes and even spam complaints, you can quickly see what content your subscribers find relevant, and just as importantly, what they don't.